For over 20 years, I have combined paper-making and hand-weaving techniques to create fiber sculptures which have been exhibited at some of the finest galleries and museums throughout the country, including the Smithsonian Institute's National Building Museum.
More recently, I have focused on the design and production of custom lighting, both commercial and residential, in addition to other areas of interior design and production, particularly in connection with the use of textiles.
I continue to design and produce custom clothing, costumes and accessories. I am also one of the founders of the Mentorship Program at the Minnesota Textile Center and have been an Artist Mentor since the inception of that program.
Perpetual Detail
Hennepin Gallery
Sep 10 - Nov 21, 2014
This exhibition feature new works by Ann Hall Richards, a widely- exhibited artist who uses repetitive and meditative textile techniques to transform common objects into contemporary and contemplative works that invite and even challenge the viewer to consider not only the content, but also the process and choice of materials. The artist collects or gathers small objects such as fabric fragments, leaves or hair, which she then transforms into larger works using repetitive processes such as assembling, stitching and/or twining. The finished works have an impact far greater than the individual collected objects, challenging the viewer to consider the value of such materials as artistic expression.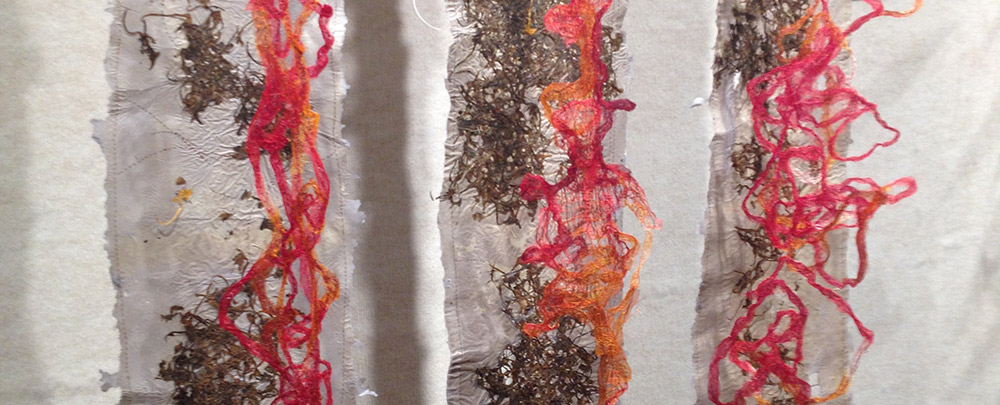 Most of my career I have focused on the creation of twined linen vessels which have been exhibited at some of the finest galleries and museums in the country. Using natural fibrous materials, I combine paper-making, hand-weaving and stitching techniques to create works which are intuitive representations of emotional life experiences. The repetitive nature of the creative process results in periods of meditation which reveal a new psychological understanding of the work. The work can then seem to take on a life of its own and evolve into something different from my original concept. I have always been inspired by natural organic forms, mythical stories and life-altering experiences. Recently, I have experimented with the use of human hair and am particularly intrigued by the interplay of light with these hair pieces. In much of my work I attempt to "push the envelope" both with respect to the types of materials I use and the personal nature of my artistic statement(s).
Lighting
Sculptural Vessels